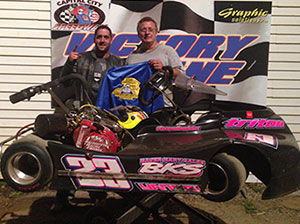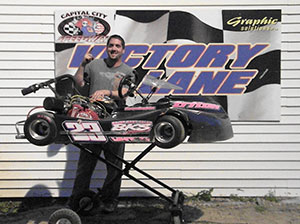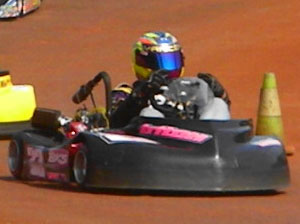 Age: 31
Hometown: Powhatan, Virginia
Classes: Clone Heavy, Clone Super Heavy, Animal Heavy
Kart Type: Phantom Triton
Motor Builder: Hedgepeth Racing Engines and Lu-Lu Performance
Sponsors: ME
Crew Chief: ME
What age did you start racing? 11
Where and what class was your first race? Capital City Speedway Turkey Trot 1994 in Jr Sportsman 1. World-renowned announcer Steve Minson won the turkey that day.
How did you get involved in karting? My dad raced in the 1970ís and took me to Capital City When I was about five or six years old to watch. He started racing again shortly after and I have been hooked/slightly obsessed ever since.
What has been your greatest karting accomplishment so far? Winning the 2008 VDKA Animal Heavy Championship and most recently winning the Champion of Champions Race at VDKAís 30th Anniversary Event.
Future goals? Win pie eating contest. Even finishing a pie eating contest without suffering an injury would be a good goal as well.
What other hobbies/interest do you have outside of kart racing? Honestly I donít have much time for hobbies outside of kart racing. It takes up most of my spare time. Brandon Comer does let me go out with him on his boat once in a while though. Is that a hobby?
Other comments. I would like to thank VDKA for a great series and for selecting me as driver of the month. Also for the sweet retro jacket I was awarded for The Champion of Champions Race. It has already been worn proudly, just ask Bajer.
I would like to give a special thanks to all the people that help me:
My girlfriend Kissy, My dad, Scotty Bajer, Dagan Bowdoin, Derek Hedgepeth, Gary Banks, Brandon Owen, David Meade, Stephen Adams, and even though he will not show up at a track before feature time Brandon Comer. He helps me load up every week so that counts for something. I am, however, in search of full time pit help so if anyone is interested please feel free to send me a message.